Preserve and protect our vines
For more than 30 years, we have preserved the balance of the soil by alternating plowing and natural grassing. Thus, our vines have a very deep root network, directly in contact with the trace elements of the soil and the minerals of our sandstone and limestone rocks. The balance of the ground is thus preserved.
In accordance with the AB charter, we do not use any pesticides (synthetic chemicals) to treat the vineyard. We formalize our approach with organic and HVE3 certification (High Environmental Value Certification level 3).
We take great care of our old vines and replant our old varieties which are less productive and much more qualitative..
Our wines thus gain in typicity, salinity, structure, complexity and aromatic expression..
Our vineyard is made up of 45 plots spread all around the village of Gueberschwihr, high places of Alsatian heritage. The richness of our wines is above all the richness of our soils which are divided into 3 types of terroirs: mano-sandstone, marl-limestone-sandstone and marl-limestone.
---
Our terroirs
Personality markers
Marno-sandstone
Terroir composed of clay deposits and scree of pink sandstone from the Vosges (tertiary origin). It is not uncommon to find boulders and large boulders of sandstone a few inches from the surface. Located to the south and east of the village halfway up the slopes, altitude between 300 and 235 m. This type of soil gives the wines power (clay) and complex acidity (sandstone): the wines are long aging, expressive, complex and saline.
---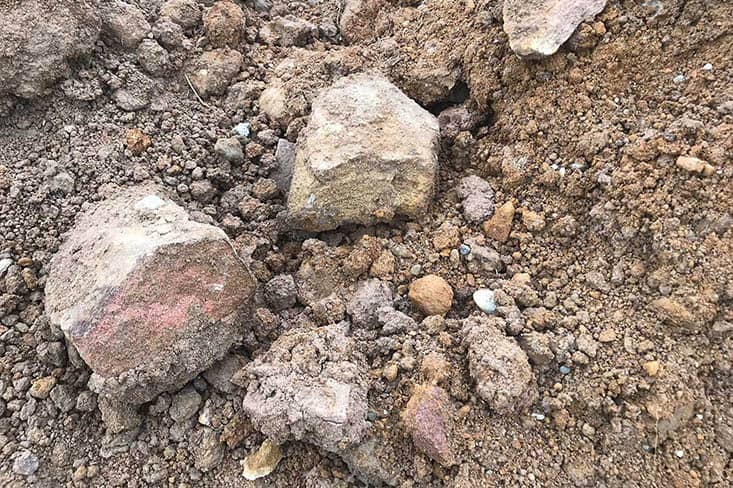 Marno-calcaro-sandstone
Clay soils where silt and loess mingle with scree of sandstone and oolitic limestone. These soils with a wide variety of rocks, rich in minerals, are fertile and allow good water retention. The plots are located below the hills. Clays bring power, sandstones and limestones finesse. The wines are fruity and dry.
---
Marl limestone
Terroir composed of clay deposits associated with oolitic limestone pebbles of marine origin. Very stony on the slopes and covered with silt halfway up the slopes. Located north and east of the village altitude between 325 and 230 m. Gives the wines power (clay) and minerality (limestone): the wines can keep for a long time, very expressive, generous, with long and persistent salinity.
---